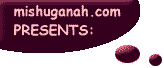 Native American Mish Mosh
We have a wide collection of one of a kind, handmade Native American
jewelry, made from semi-precious stones and the finest metals by various
artists from Navajo, Santo Domingo, Zuni and Hopi tribes to name a few.
Our inventory changes daily, so if you are looking for something in
particular, please inquire to see specific samples of what we have in stock.
We have beautiful inlays, cuffs, rings, squash blossom
necklaces, fetish necklaces, semi-precious stones and much more!
You name it, we probably have it!
---
Mishuganah.com|Arts & Artists|Show Schedule|Order Info|Contact Us|Links|Mailing List
All items are made entirely at the discretion of each Artist and may be discontinued at any time.
All items on this website are subject to prior sale.
All prices are subject to change without prior notice.
Pictures and text on this site are © 2007 mishuganah.com or are being used with permission of the rightful copyright owners.
All right reserved.